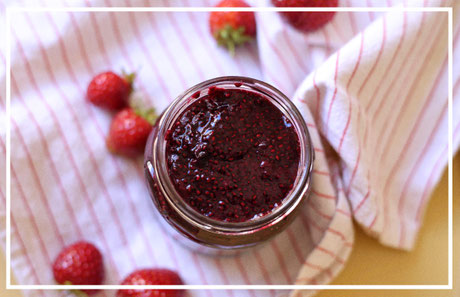 Jams or marmalades (what's the difference again?) always remind me of my mother pulling out the big pot from way behind the kitchen supply storage, and mountains of fruit, sugar and her secret ingredient "Kirschwasser" (an alcoholic beverage) that gives the marmalade that "certain something", as she called it.
The house smelt like simmering warm fruit and cinnamon with a pungent undertone that you could almost taste at the tip of your tongue. 
Hours later, jars stacked upon jars with my mother's beautiful handwriting on them assembled on our kitchen table, ready to be devoured by us children and given away as presents for the extended family.
My very first' "I got drunk and I don't know how"-experience happened, because I had eaten uncountable slices of bread drowning in my mother's loaded marmalade. I've rarely felt happier! To this day my sisters love to recall the story when "Sophia got drunk on mama's marmalade".
For today, let's take it down a notch, won't we? And by 'it' I mean the amount of sugar, alcohol and cooking time.
This is one of those recipes that if you do it once and realize how easy it is, you do it all the time. It takes about 10 minutes and you can enjoy it right away. 
I take fruits that are in season (as of right now I love the combination of strawberries and blueberries or blueberries and blackberries). I have yet to try this recipe using peaches and apricots, but they are sitting on my kitchen table as we speak.
Bring on the recipe:
200g strawberries
125g blueberries
3-4 TS Filtered water
1 TS Cinnamon
1 TS Lemon juice
5g Vanilla
1 TS Date sugar, honey or any sweetener of choice (I sometimes don't even bother to use sweetener, if I want the jam to be a little bit more zesty)
4TS Chia seeds
         Instructions:
In a saucepan, bring the fruit and water to a boil. While the fruit is getting soft and mushy, you can add on the rest of the ingredients except the Chia seeds.

Keep stirring and smash the fruit as much as you want. If you want the jam to be extra smooth you can blend it for a few seconds. 

Take the heat down and put the chia seeds into the pot while stirring, so no clumps are forming.

If you are content with the consistency, put your warm jam in an empty glass jar. 

You can eat it right away or give it some time over night in the fridge to completely cool down and further thicken.
I love putting it on top of my savory porridge each morning, eat it in the afternoon on top of my coconut yoghurt or spread it generously on my buckwheat bread (recipe here). 
I hope you like this easy recipe! Let me know how you get on with it and if you get as addicted as me! ;)
xx misszophie