It is that time of the year again. Black Friday and Cyber week. The chance to save and buy as much as you can. As I am looking through all kinds of social media platforms I see a polarizing trend. The ones that can't wait to shop until they drop and anticipate that day more than their loved one's birthday, or the ones that are strictly boycotting this day of unconsciousness. Once again, I find myself somewhere in between. I have to say that I rarely shop without discount codes or some kind of deal. These products I spend my money on aren't super cheap, so I am choosing wisely...or to use a word that is in everyone's repertoire now: Sustainably. 
I discovered my love for green beauty 2 years ago and it did shift my mindset into shopping the things I really really want and "need" (this term is always debatable, too). 
I listed 8 things that I either already love and use dearly, or that have been sitting on my wishlist for a while. OR: They are just plain beautiful. Here they are, and hopefully you like them just as much as I do: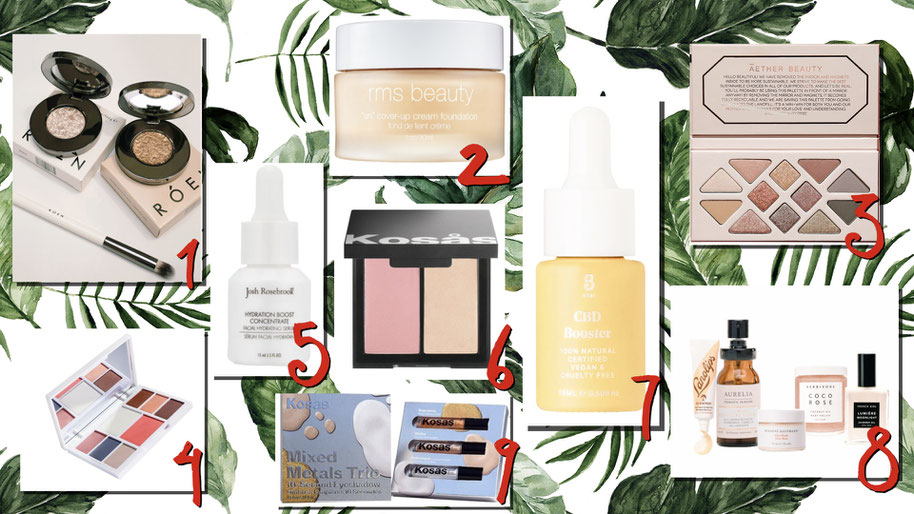 ---
1) ROÉN BEAUTY DISCO EYESHADOW
If you follow me on instagram and my YouTube channel you might have seen that I am obsessed with this brand lately. I have both of their palettes and incorporate their glittery eyeshadow almost daily into my routine. They have two single eyeshadows, called "Disco Eyeshadow".  A chunkier glitter, but make it sophisticated! Best applied with fingers it's the quickest eye look with minor effort. Pair the silvery or the gold shade (or dab in top of an existing eyeshadow) with a red lip and you are good to go on the festive days.
You can shop Roén Beauty on nichebeauty, klick  H  E  R  E  for the direct link to the eyeshadows. Save 20% on niche beauty with the code BLACK20
         2) RMS BEAUTY UNCOVERUP FOUNDATION
My favorite cream foundation at the moment. Well, for the last two months at least. Suitable for any skin type (always make sure to adapt your skincare) and skin issues. It covers beautifully and still looks like skin. I have actually received compliments on my skin while wearing it, and believe me, that never happens to me as I am struggling with acne for a decade now. If that is not a reason for this foundation to not leaving my shelves any time soon, then I don't know what. Highly recommend. I used this foundation in my latest YouTube video which I will link below. 
You can shop RMS on multiple websites. You can also get it on niche beauty and save 20% with the Code BLACK20. Klick
 H  E  R  E  for the direct link to this pot of glory!
      3) AETHER BEAUTY EYESHADOW PALETTE
This was my first green beauty palette. You can create so many versatile looks with these palettes from aether beauty and they come in a super sustainable packaging. These palettes hold a lot of shimmery eyeshadows, but also a few matte ones to keep the balance. 
You can buy this palette at feelunique. By clicking  H  E  R  E  you find your way directly to the palette. (Both palettes are 20% off!)
      4) RMS BEAUTY HIDDEN DESIRES PALETTE
Another palette, another rms product. It's just one of my favorite brands on the green beauty market. This is on my list since it launched a couple of weeks ago. This palette has it all: The cool tones, the warm tones. A blush and a beautiful highlighter. Amazing to travel with , because you can create any look with it. You can really take it from day to night. This is sitting on my shopping cart as we speak. :D
You can find it on niche beauty. Grab your palette right H  E  R  E 
    5) JOSH ROSEBROOK HYDRATION BOOST CONCENTRATE
This has been on my wishlist for months now. A serum without any essential oils (which can be irritating to some skin types). A few hit ingredients: Aloe Leaf, Horse Chestnut, Neem extract. I tried a small sample of it which lasted me 4 uses, and my skin wants more! This would make an excellent first hydration product after cleansing and toning. 
I love buying Josh Rosebrook on contentwellbeing. You want your skin to be hydrated? Then click right  H  E  R  E
Black Friday Code: FESTIVE15  (if it runs out: If you sign up for their newsletter you get 10%)
    6) KOSAS CREME DUOS
I have hit pan on both of my Kosas Creme Duos (8th muse and Tropic Equinox). I love the textures and how blendable they are. The blush tones are without any shimmer and the highlighters look incredibly natural. 
Again, you can shop those beauties at nichbeauty. Click right  H  E  R  E  to shop. 
7) BYBI CBD BOOSTER
I am on my third bottle. Do I need to say more? Well, I should actually: This oil calms down my skin like nothing else (I already love CBD drops for my migraines and anxiety), just three drops on damp skin and follow up with your favorite moisturizer. 
You can find it on contentwellbeing. Click  H  E  R  E  to calm down your skin. 
9) KOSAS MIXED METALS TRIO
If you follow me on instagram and my YouTube channel you might have seen me use the Kosas 10 second eyeshadows a couple of times. This trio is going to be the gift I am giving to myself this year. (Well...one of them :D)
I really enjoy the liquid texture (you really have got to shake them up) and how easy they are to work with. They have great colors to choose from, if you want to buy them separately. 
You can find the mixed metals trio right  H E R E on contentwellbeing
The single ones you can also find on nichebeauty, right H E R E (my favorites are: Globe, Waterfall, Element and 333)
8) COSMIC ME TIME SET
This is the one set of different products that caught my eye. You have got all the essentials for a perfect "me-time". Makes an awesome gift as well. I am definitely giving this to a certain someone who just had a baby and wants to feel pampered and beautiful.
Get it on nichebeauty right H E R E. I would highly recommend scrolling their gift sets. There are so many beauties to choose from. 
---
I hope I could inspire you to some new green beauty products. Happy shopping everybody! If you have any questions you can always drop me a DM on instagram or leave a comment here. 
Have a wonderful day!
You can watch my last video to see some of these products in action
---
* All the links above are affiliate links. 
AD// Not sponsored