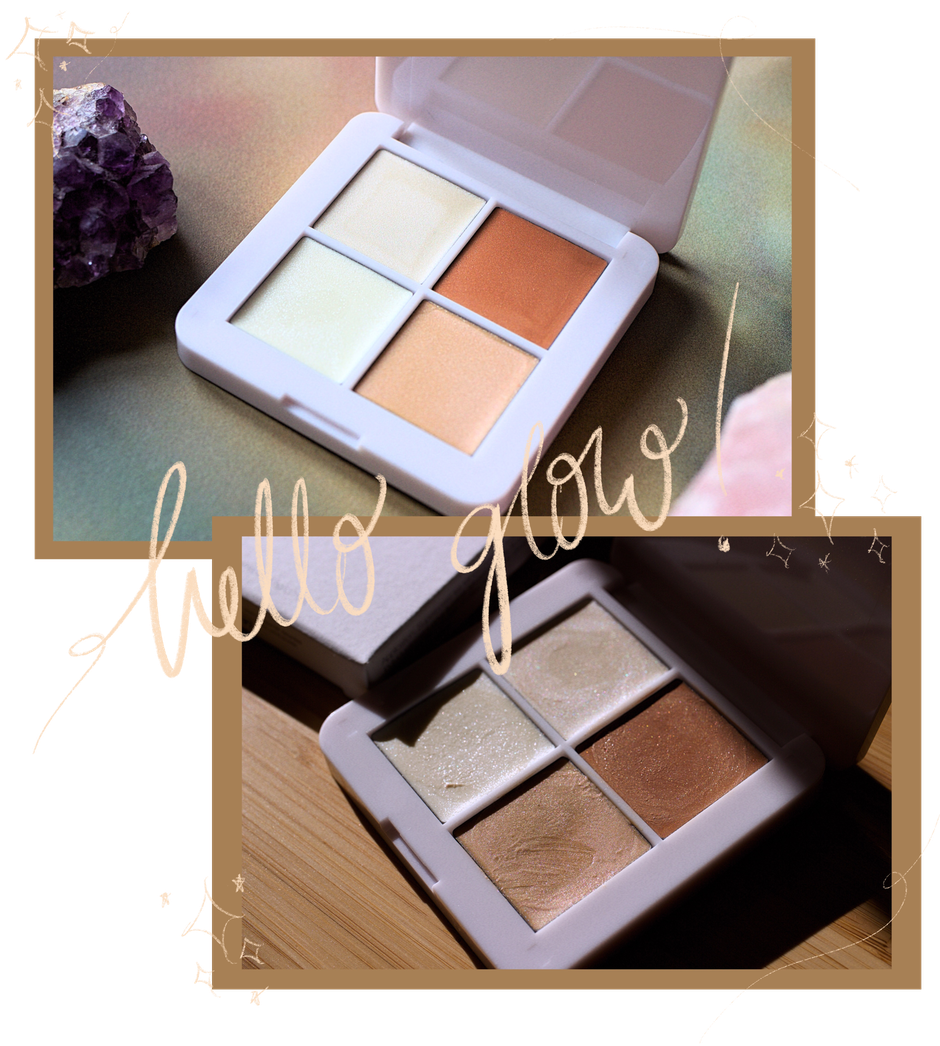 "These Days it's all about that    Glow"
No one wants matte skin. Including me. Gone are the days of loading up the highest coverage matte powder. Bye, Bye chalky face: We want glowy, subtle, fresh, bouncy, highlighted-to-perfection-skin.
There are innumerable options for highlighters out there; so many different colors and textures which makes it hard to filter out which one is "the one".
When it comes to highlighting and as I call it, "refreshing" my skin, I to 100% opt for a creamy version. My skin is dry and dehydrated and eats up every moisture it gets. I just love how creamy highlighters sit and melt into my skin.
My absolute favorite at the moment is the rms luminizer quad. Not only do I have the option of one, but four different colored highlighters. Two out of the four just give you a sheer glow (Champagne Rosé & Luminizer Nude), whereas the other two are a little bit more on the whitish and glittery side (Luminizer X & Champagne Fizz). Something for every occasion & mood.
In the pictures you can see the fresh and (almost) untouched palette. Fast forward 6 months and I've already hit pan on three of the colors. I tend not to use the glittery one as often, although it looks gorgeous dabbed onto bare eyelids. 
The texture isn't not too sticky, melts, but doesn't completely vanish into your skin and lasts all day. And might I add: It looks fabulous in pictures. So get your selfie-glow on! 
You can mix them to get your perfect shade and use them on top of your eyeshadow, bare lids (for the extra all over glowy effect), and lips. And of course the high points of your face: Cheekbones, brow bone, bridge of the nose. 52,00€ for this palette seems like quite a hefty price (you get 4.8g of product) but it is so worth it: great ingredients (hello, coconut oil!), beautiful colors and the effect it gives is just priceless. 
I bought this beauty via nichebeauty which is one of my favorites to shop green beauty!
Get your palette here: RMS LUMINIZER X QUAD*
*Affiliate Links
      Here is my latest foundation routine video in which you can see the rms palette in full action: