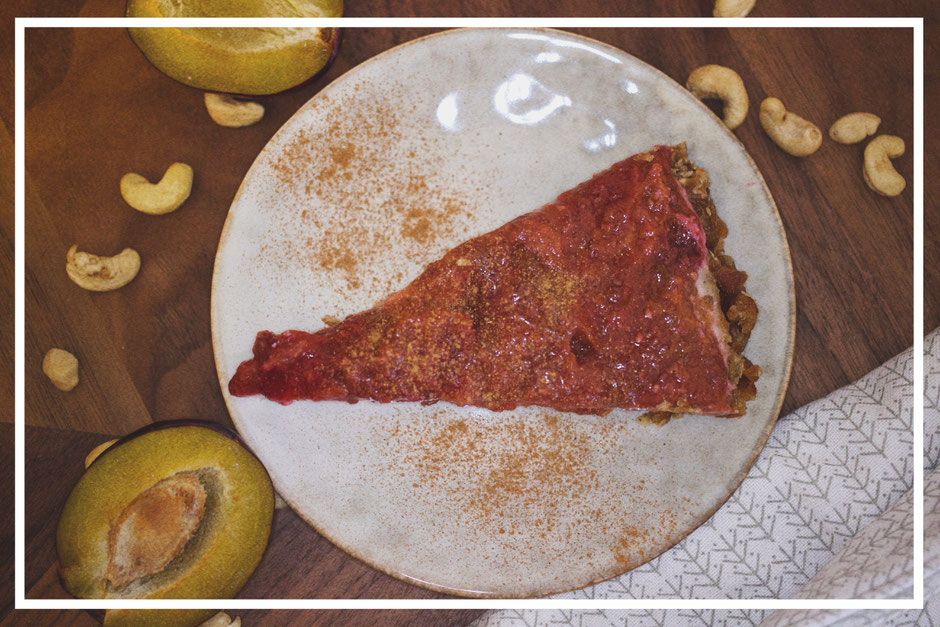 When I did my weekly shop the other day, my eyes fell straight onto those beautiful heaps of fresh and in season plums. 
I was never one for eating them raw - very hard on my stomach. But as soon as I saw them I knew I wanted to cook them up with some cinnamon and date sugar (as I am writing this I crave it). For me, it is the most authentic autumn scent. 
My first idea was to make it into easy jam (read the recipe here), but I still had some left overs in the fridge that I had to go through first. 
Because I hadn't done a raw cake in a while it was the perfect idea.
Here we go, with three layers of goodness.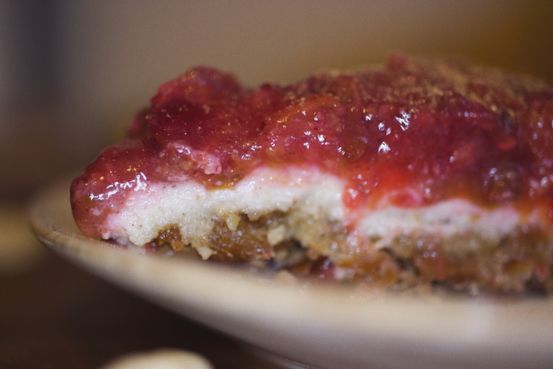 Ingredients:
For the base layer:
400g dates (if they are too dry or your food processor is too weak, soak them over night)
70g glutenfree oats
1TS Vanilla
4TS Coconut Oil
For the middle layer:
300g Cashews (soaked over night)
1TS Vanilla
Juice of half a lemon
2 cups of Coconut Milk
For the top layer:
5-8 plums
2 TS water
As much cinnamon as desired (I take 1,5TS)
2 TS datesugar
2 TS Chia seeds
Instructions:
Start by pitting the plums and cutting them into small pieces. Put the plums and the water in a small pot and let them simmer until they are soft (ca. 15min). Now you can add the cinnamon and the dates sugar. Bring the heat down and stir in the Chia seeds. This will thicken a bit while you prepare everything else.

Put the ingredients for the base layer into your food processor and blend until everything becomes a paste. If your food processor isn't the strongest, try not to put everything in it at once, but rather in small rations. If it is a little bit chunky, don't worry, it tastes just as good!

Place the paste onto your tarte-/ cake tin and spread it out with your hands.

Time to do the "cheesecake layer": Place all the ingredients for the middle layer in your blender and blend away. Blend until smooth and creamy. The less chunks, the better.

Put the cheesecake layer carefully on top of the base layer.

Now the plums are ready to go on top. Spread them out evenly. Put some clingfilm or aluminium foil on top and place it in the fridge over night.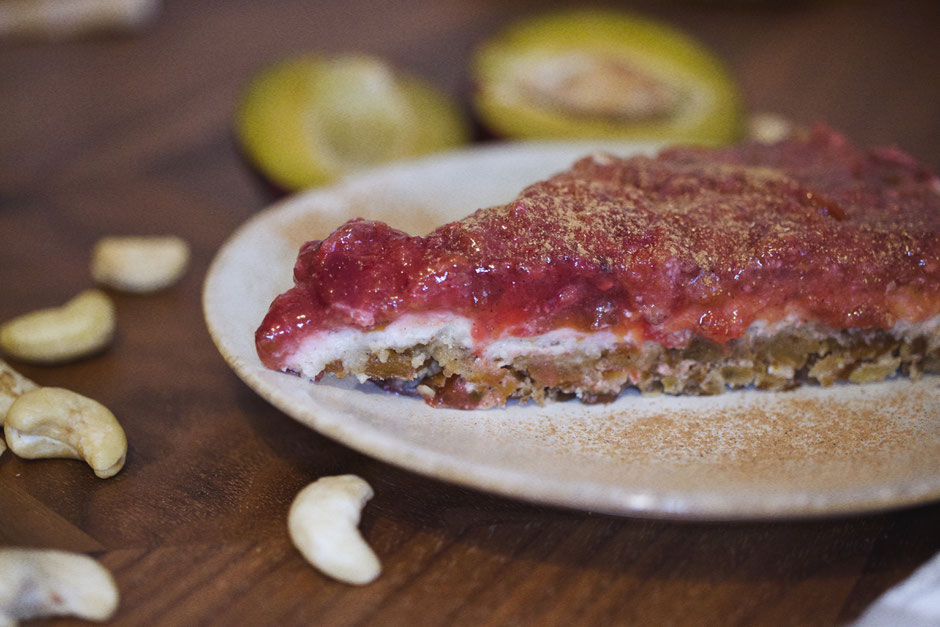 I know it can be hard waiting until the next day, but it takes a little time for the cheesecake layer to harden up. But believe me, it is so worth the wait. 
I hope you enjoy this plum tart as much as I do! Wish you all a great start into autumn. 
xx misszophie