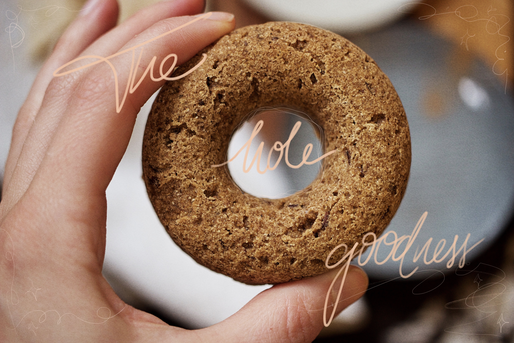 I don't know if it is just because the weather got cold and grey, but lately I had this insane craving for donuts. In the past, donuts have always had a special place in my heart. Their fluffiness and different kinds of sugary toppings made them number one of my favorite bad things to eat (along side with sour gummi bears). One of the downsides I always encountered when I indulged in those "holey" treats were pounding headaches that felt like the world's worst hangover. Every time. Without fail. I don't know if it was the high refined sugar content or the white flour or the crazy toppings (I could never pick a favorite) or just the combination of all of them together, but I never really enjoyed the aftermath. 
After years of not thinking about them (I completely weaned myself off of being a sweet tooth) the cravings kept creeping up on me as soon as the weather turned grey and cold this year. So what to do? I bought myself a silicone donut mold (for 6 delicious treats), and tried to mix together a vegan, gluten free and yeast free donut dough that wasn't too high in sugar content (or at least no refined sugars).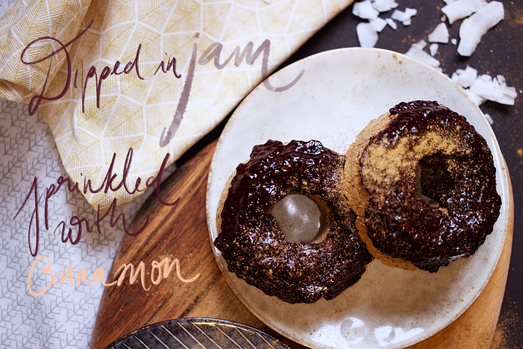 Of course the first couple of batches totally failed. No fluffiness, actually the complete opposite. The second batch was better, but more like a slightly fluffier scone. It was delicious, but NOT what I had in mind. 
The third batch came out sooo much better. I still have to come to terms with the fact that the "real" fluffiness might never really be happening with these kind of donuts, but they are so delicious and may I say, the best baking I did so far. 
For the topping you can be oh so widely creative! In this recipe I show you the end result with my quick and easy chia jam. Love! But dipping them in melted dark chocolate and sprinkle some coconut flakes on top, is also a sweet tooth's dream come true. 
I am also thinking about trying them out with pumpkin puree, apple puree (just pop it into the mix instead of the flaxseeds) and some christmasy spices to make them more appropriate for the holiday season.
Stay tuned on instagram to see my different variations, cause lemme tell you: I won't be over them any time soon. 
---
---
 Instructions:
- Preheat your oven to 180° - 
1. Sift your white rice flour and coconut flour into a big bowl.
2. Add potato starch and arrowroot (these two ingredients are our binding helpers and make the donuts as
   fluffy as possible) and make sure there are no clumps.
3. Mix in the rest of the dry ingredients.
4. Time to add all the wet ingredients and mix everything together until it's nice and smooth. 
5. Put a little bit of coconut oil into the donut moulds and fill the moulds with the mixture.
6. Now it's time to give the donuts some heat: Put them into the oven for 15-18 minutes.
7. Let them cool down before you remove them.
8. Dip them into your topping of choice! 
---
Hope you enjoy! Please let me know via instagram if you tried them and what toppings you used. 
xx  misszophie